Well this morning we've seen a multitude of leaks regarding Apple's implementation of Light Peak and some specs of the upcoming MacBook Pro refresh. Thunderbolt will be the name Apple uses for Light Peak and it seems to take the form of the Mini DisplayPort, in fact it also replaces the Mini DisplayPort on the MacBook Pro as can be seen after the break.
The spec sheet for the updated MacBook Pro 13" has also been leaked in both German and English so it seems to be virtually confirmed that the 13" MacBook Pro will have a; 2.3Ghz Dual Core i5 processor, 4GB RAM, integrated Intel HD 3000 graphics unit.
Some interesting additional specs are that it will include an SDXC card reader which has the ability to read a card of 2TB and a reference to a webcam that is described as a "built-in FaceTime-HD camera" which begs the question, why is 'HD' appended to that? It could be as innocent as a higher definition webcam than is used in the iPhone for FaceTime or perhaps the suggestion that FaceTime calls could become higher quality. Jump the break for the spec page.
[Via Engadget, Mac4Ever, MacRumors]
UPDATE 4: With all the updates so far on these leaks, I have cleaned up the post, check the break for all the photos.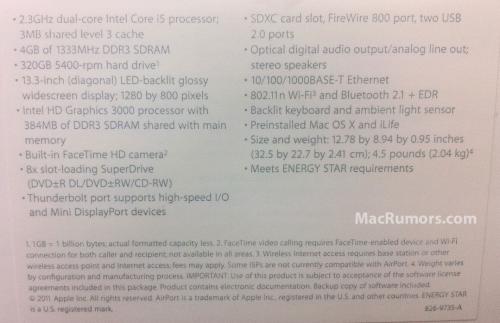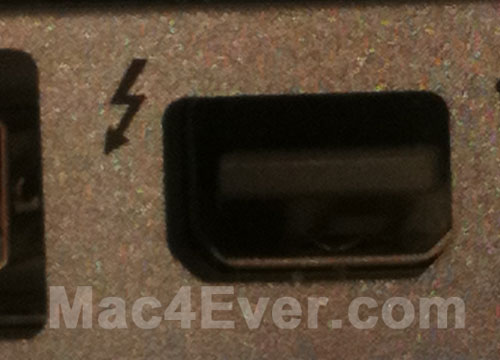 Update: new MacBook Pro photos, courtesy of 9to5mac.