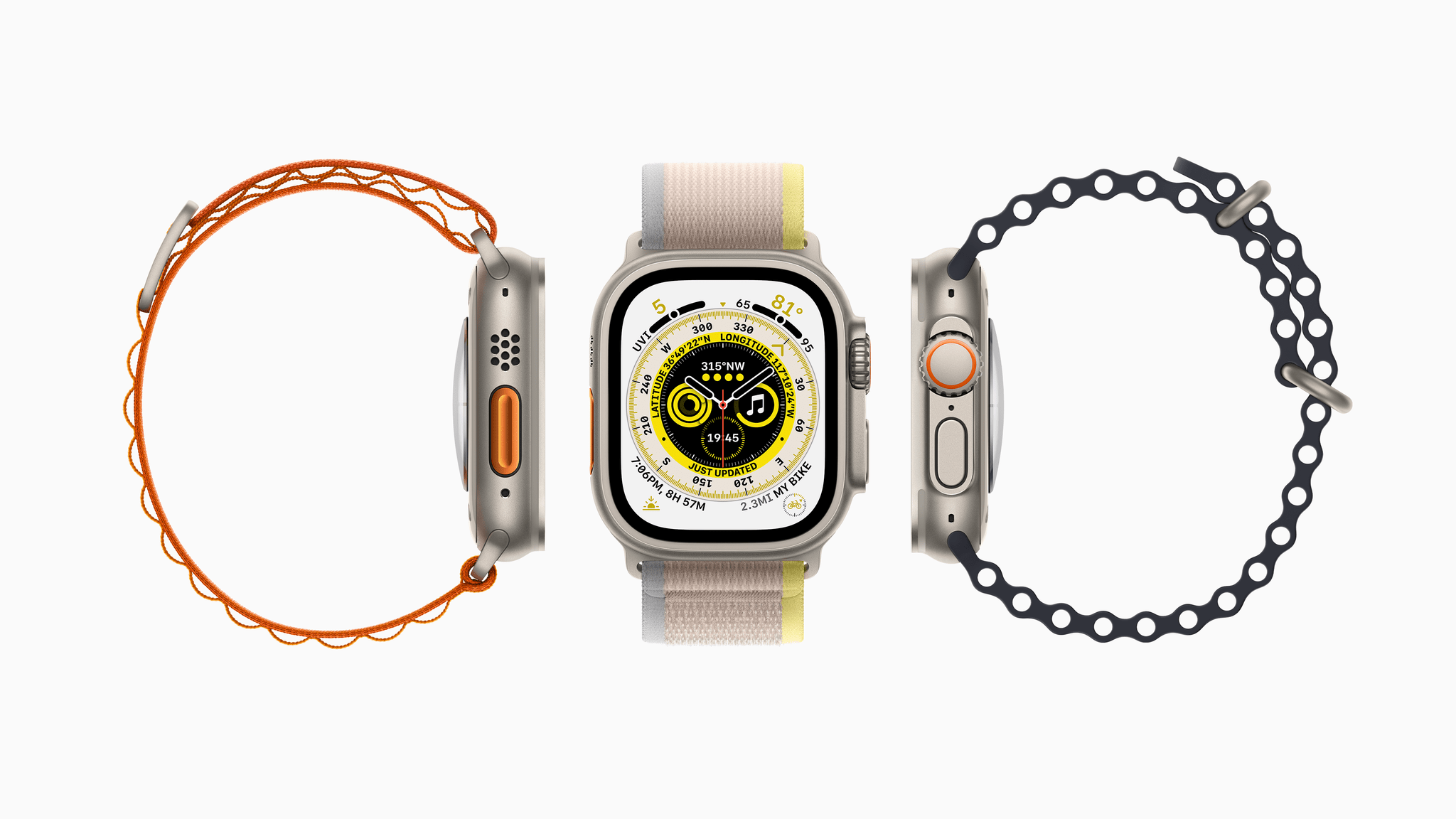 At today's Apple event, Director of Apple Watch product marketing Deidre Caldbeck took the stage to introduce the Apple Watch Series 8 and the Apple Watch Ultra. The Series 8 is another solid year-over-year upgrade to the standard Apple Watch line, but the Ultra is an all-new category of watch aimed at high-end sports and rugged outdoor activities.
Apple Watch Series 8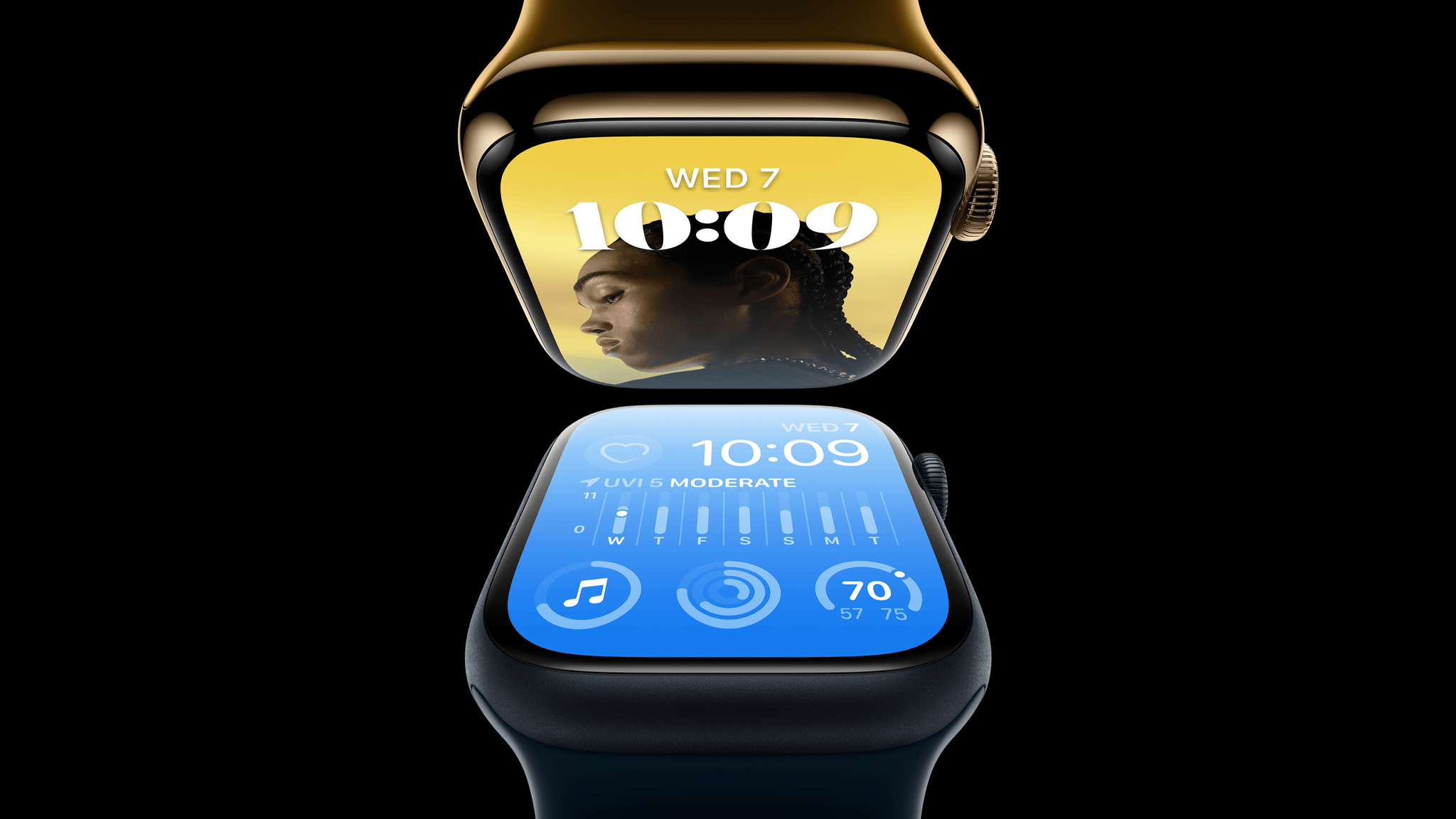 This year's mainline Apple Watch builds on the foundation laid by the Series 7. The display and case design are essentially unchanged, but a cadre of new sensors have been added to enable several advanced features specific to the Series 8.
First off, a temperature sensor has been introduced in the new hardware. This sensor samples your body temperature from your wrist overnight once every 5 seconds, and tracks this data in Health app for iOS.
The Apple Watch Series 8 utilizes this metric for tracking menstrual cycles and identifying indicators of ovulation. This new data (which Apple emphasized will be encrypted on your device, and end-to-end encrypted when transferred to healthcare providers) will be used to enable a suite of new features in the Apple Watch Series 8's Cycle Tracking app. Be sure to check out Nicole Wetsman's more in-depth take on these improvements over at The Verge.
Next up, the Series 8 adds a new 3-axis gyroscope and high g-force accelerometer. The Apple Watch uses these sensors, as well as input from the GPS, barometer, microphone, to detect if you've been in a severe car crash. This highly advanced new capability is enabled only while you're driving, and will automatically contact emergency services and notify your emergency contacts when it detects that you've been in a crash.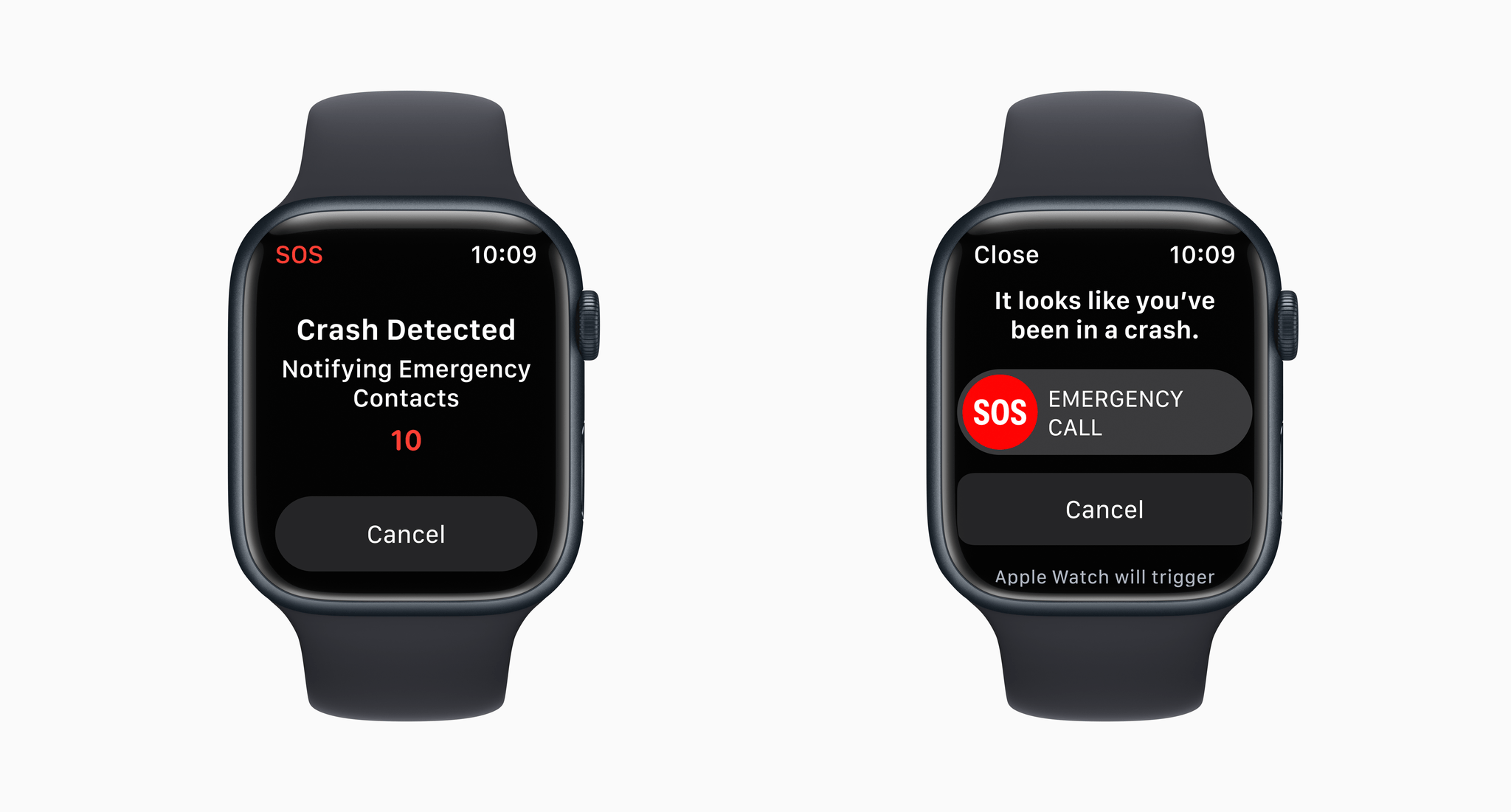 For the first time this year, Apple is also introducing Low Power Mode to the Apple Watch. The new toggle will disable some of the most power-hungry features of watchOS, such as the always-on display and the automatic workout detection. Low Power Mode will be available on all Apple Watches Series 4 or later. On the Series 8 Apple Watch, Low Power Mode should increase battery life to up to 36 hours.
International roaming is also coming to Apple Watches Series 5 and up running watchOS 9. This should be nice for users who travel outside their country and would otherwise lose the cellular capabilities on their Apple Watch.
The Series 8 does include a new S8 SIP (system-in-package), but Apple hasn't mentioned any specifics on the new chip other than it being 20% faster than the old Apple Watch SE's chip. Presumably that means that the new chip helps integrate the new sensors into the system, but doesn't include any other meaningful improvements over the Series 7's S7 chip.
Apple Watch Series 8 will be available in four aluminum case colors (midnight, starlight, (Product)RED, and silver) and three stainless steel case colors (silver, gold, and graphite). The new device starts at $399 for aluminum GPS-only models, $499 for aluminum cellular models, and $699 for stainless steel models (which all come with cellular capabilities). You can already order the device from the Apple store site, and they should begin shipping on September 16th (although from the looks of it, most or all models are already pushed back to at least late September or early October). A purchase of any new Apple Watch includes three months of Apple Fitness+ for free.
Apple Watch Ultra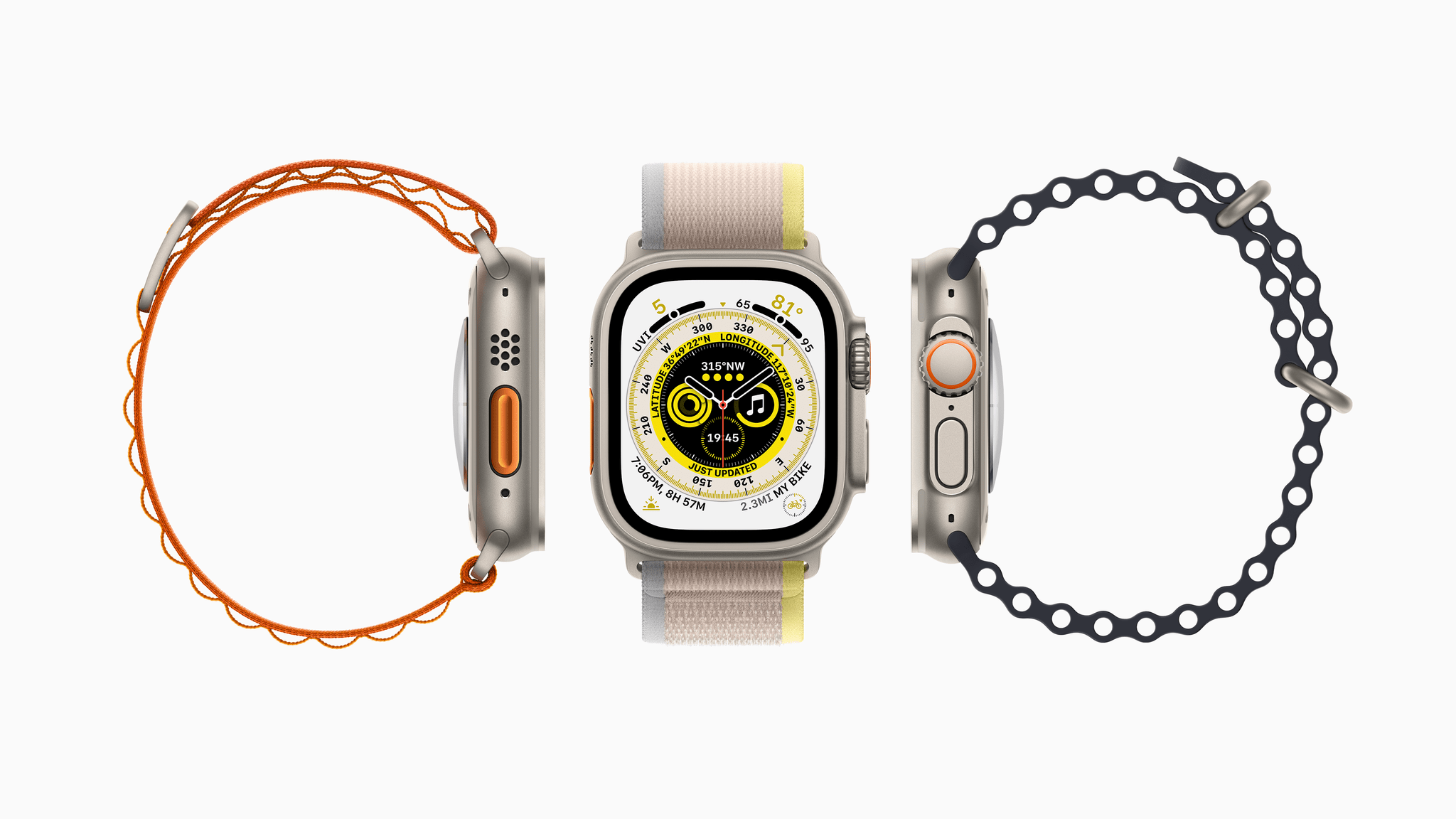 The biggest news in the Apple Watch world this year is the introduction of an all-new product line: the Apple Watch Ultra. This is a rugged watch aimed solidly and explicitly at athletes and adventurers.
The new device's aerospace-grade titanium case measures in at 49mm, the largest ever on an Apple Watch (previously the largest case was the 45mm Series 7). While still perfectly recognizable as an Apple Watch, the case design has been altered for increased protection. The titanium rises up at the edges, going slightly above the sapphire crystal display to protect it from impacts.
The Digital Crown is larger and features more defined grooves, and it is now protected by a pronounced crown guard. The side button is raised from the edge of the case to make it easy to press even while wearing gloves.
On the other side of the device, an all-new 'Action button' can be found. This button has a customizable functionality, allowing you to choose what action occurs on your Apple Watch each time you press it. It can be used during active multi-stage workouts (such as triathlons) to immediately switch to the next phase of the workout, or it can even be configured to run a shortcut.
The always-on Retina display of the Apple Watch Ultra goes up to 2,000 nits of brightness, fully double the max brightness of the Apple Watch Series 8. The device also features an extra speaker, new microphones, and the biggest battery of any Apple Watch yet. Apple rates the battery life at 36 hours, fully double the 18-hour battery life of the Apple Watch Series 8. Furthermore, a battery optimization setting (presumably different from the aforementioned Low Power Mode) is coming later this year which will extend the battery life up to 60 hours — at the cost of disabling or limiting certain features.
The Apple Watch Ultra includes a new dual-frequency GPS which integrates the L1 and L5 frequencies to create a significantly more accurate readout. This change should enable users to gather accurate GPS metrics even in difficult conditions, such as when running through cities where you are surrounded by large skyscrapers.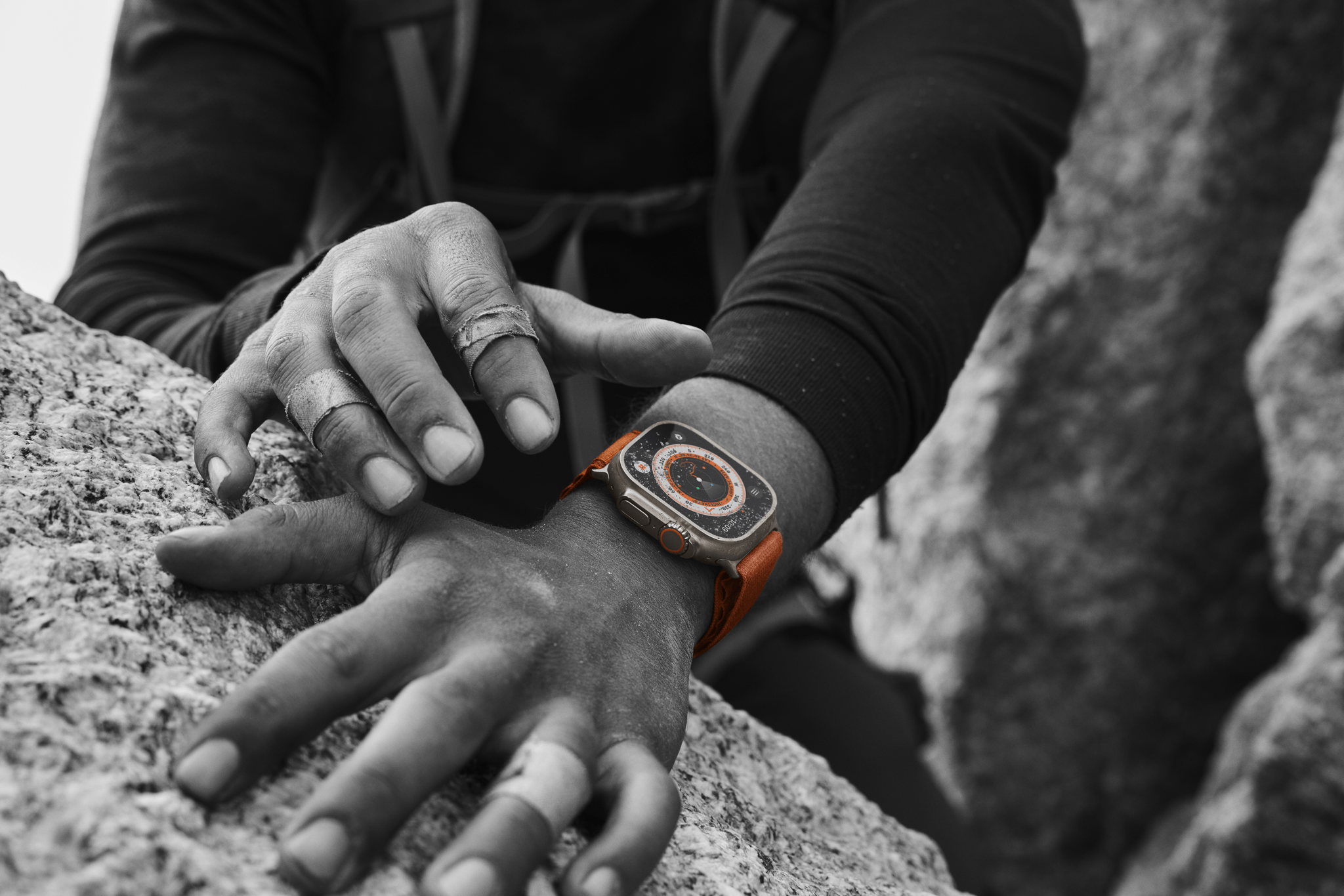 The Ultra has been certified to function in extremely harsh climate conditions. According to Apple, it has been tested to subsections of the US MIL-STD 810H military standard for altitude, high and low temperatures, temperature shock, shock from impacts, freezing and thawing, and vibration. The device also has a water resistance rating up to 100 meters, enabling it for use during recreational scuba diving activities up to 40 meters (despite the rating, Apple notes that the Apple Watch Ultra should not be used for scuba diving below 40 meters). The device includes a depth gauge and a water temperature sensor to gather metrics during dives.
The watchOS Compass app has been overhauled with a new design and improved features to prepare for the Apple Watch Ultra. The app enables you to set waypoints, such as a campsite, and then navigate between them using the compass functionality. A new 'Backtrack' feature displays a line showing exactly the route that you've taken to get to where you are, thus allowing you to easily retrace your steps when you're ready to return from your adventure. If you lose connectivity, Backtrack will turn on automatically.
A new Wayfinder watch face displays the Compass and Backtrack features directly on the face of your Apple Watch Ultra, making them easily available at all times. There is also a new night mode option which switches the Apple Watch Ultra's interface to a red color for greater nighttime visibility.
Finally, the Ultra includes a built-in 86 decibel siren which can be triggered to alert others up to 600 feet away. If you get trapped somewhere, this can be a great way to get the attention of anyone nearby so that they can come help you out.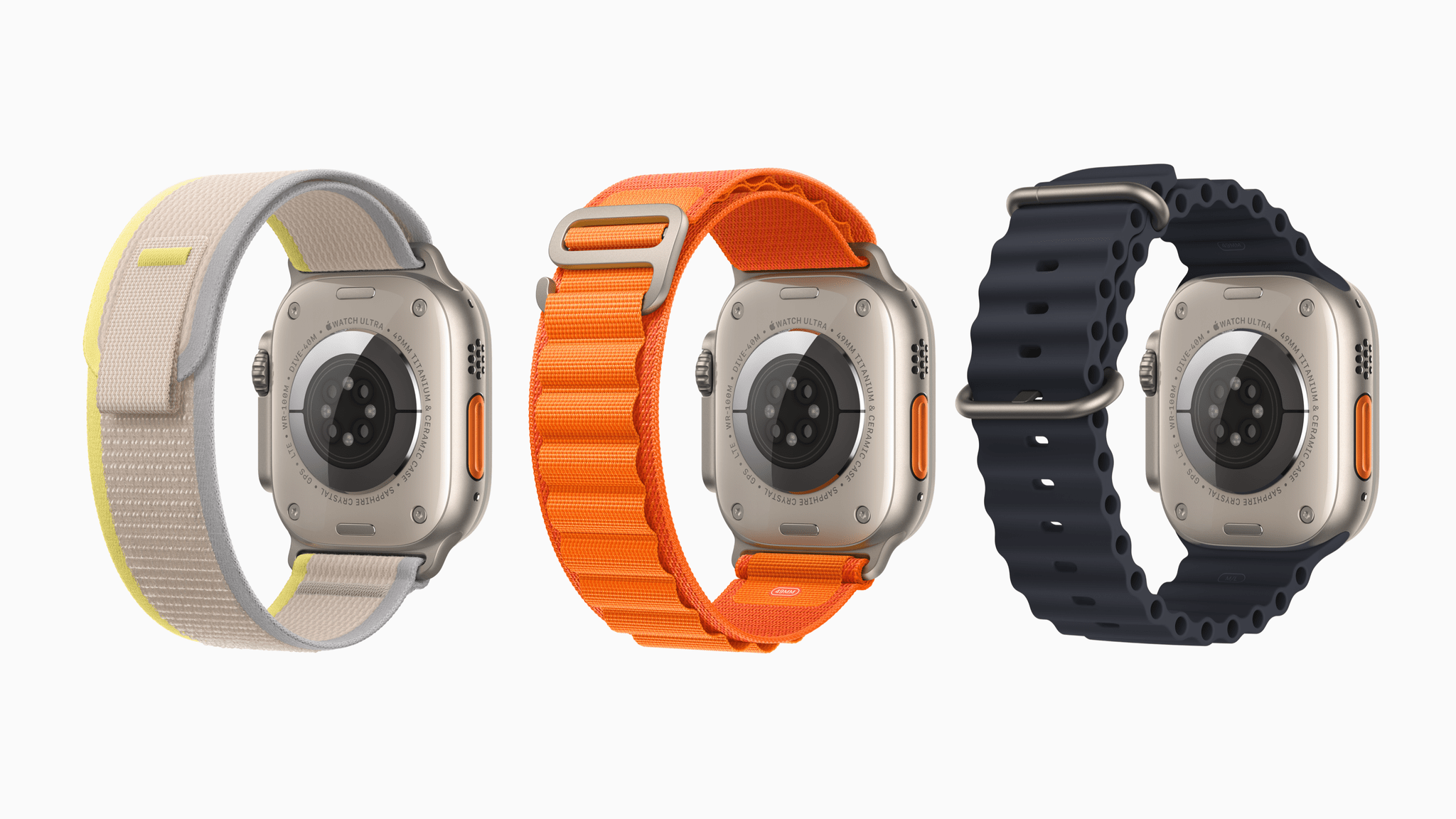 Alongside the new watch, Apple is releasing three Ultra-exclusive Apple Watch bands: Alpine Loop, Ocean Band, and Trail Loop. Each band is designed to remain strapped on even under the stresses of outdoor adventuring environments. Each is designed with a particular activity in mind as well. Apple says that the Alpine Loop is for outdoor adventures, the Trail Loop is for endurance athletes, and the Ocean Band is for extreme water sports and recreational diving.
All models of the Apple Watch Ultra are $799 and include both GPS and cellular. The device is available starting today, and begins shipping September 16. That said, like the Apple Watch Series 8, the available ship dates appear to have already slipped into October at the earliest.
Apple Watch SE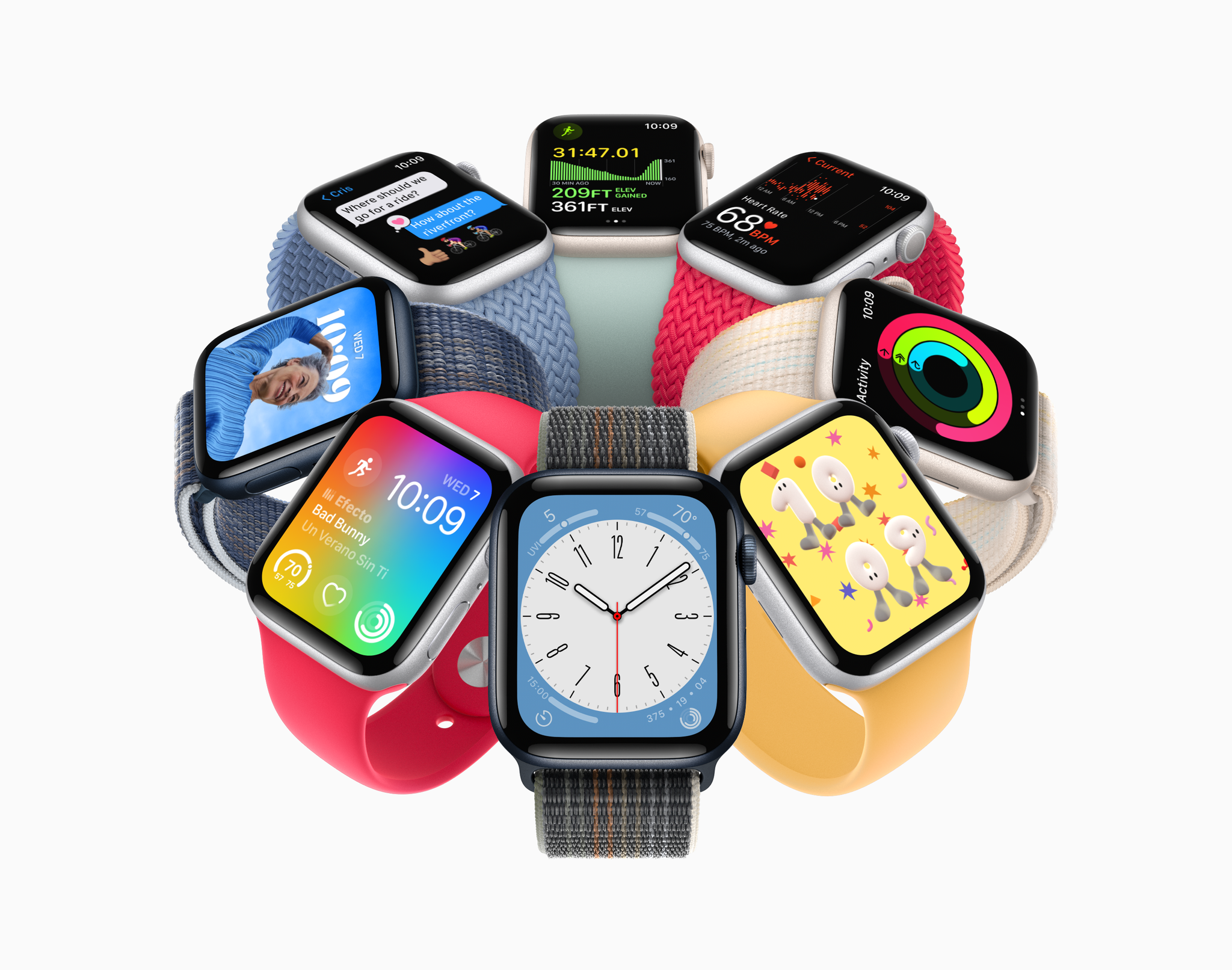 The Apple Watch SE has received a minor upgrade this year as well. It now comes in silver, midnight, and starlight aluminum finishes, and has a redesigned back case made from nylon composite materials. The new SE has added the same new motion sensors as the Series 8, allowing it to support the new crash detection feature. It has also been upgrade with the same S8 SIP as the Series 8, making it 20% faster than the previous SE model.
The new Apple Watch SE starts at a lower price of just $249 for GPS, or $299 for GPS and cellular. You can order it today, and it ships on September 16th. As of this writing, the SE ship dates are the only ones which have yet to slip.
---
You can follow all of our September 2022 Apple event coverage through our September 2022 Apple event hub or subscribe to the dedicated September 2022 Apple event RSS feed.