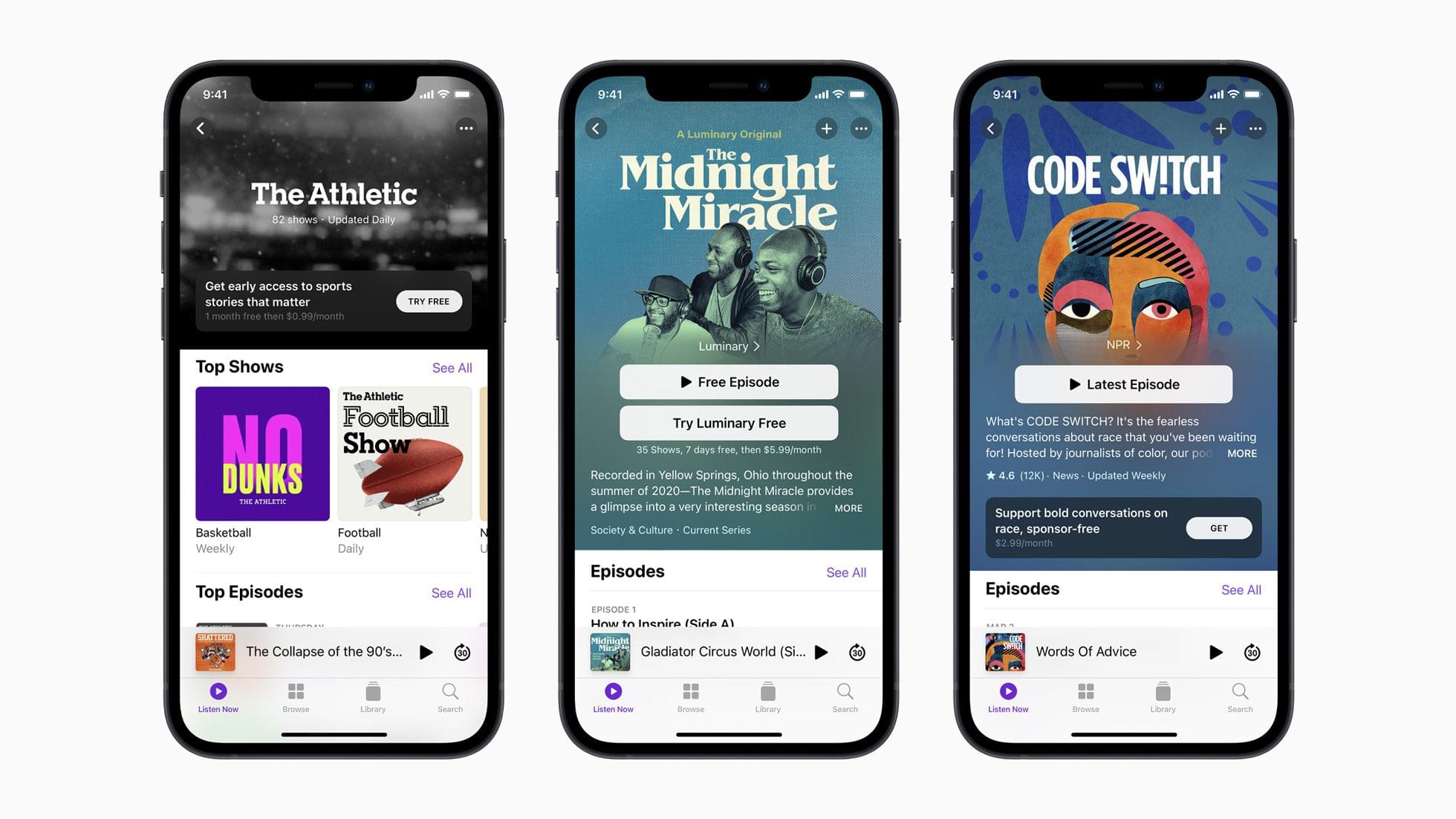 During today's keynote event, Apple announced their new Apple Podcasts Subscriptions service. Launching in May in over 170 countries, the service will allow users to subscribe to premium podcasts directly from the Apple Podcasts app. Premium shows will offer access to various perks for users, such as removing ads, releasing shows early, or providing exclusive content.
Podcast creators can participate in the service for $19.99/year, and can use the redesigned Apple Podcasts Connect website to manage their subscription offerings. Apple has partnerships set up with some creators and companies to kick things off, including NPR, The Athletic, Tenderfoot TV, and Pushkin Industries.
Accompanying the new subscription service is an update to the Apple Podcasts app. The updated app will allow subscribing to premium podcasts, and will also display new "channels." Podcast channels are groups of shows curated by creators, and can be either free or paid.
Apple Podcasts Subscriptions details:

- Channels are "groups of shows curated by creators"
- New 'Apple Podcasters Program' with "tools needed to offer premium subscriptions" at $19.99/year
- Subscriptions can be shared with family #AppleEvent

— Federico Viticci (@viticci) April 20, 2021
While the integration into Apple's ecosystem means users can easily subscribe using their existing App Store accounts, it also means that Apple will be taking its usual 30% of revenue from podcast creators. This will drop to 15% after the first year, the same way it does for in-app purchases.
---
You can follow all of our April event coverage through our April 2021 Event hub, or subscribe to the dedicated RSS feed.