MacStories Shortcuts Icons let you customize icons for shortcuts on your Home screen, choosing from 400 glyphs with four different color combinations for a total of 1,600 icons.
MacStories Shortcuts Icons are available in two versions: Classic and Color.
You can get both sets at 30% off the combined price with our special Bundle edition.
Start customizing your Home screen today with the MacStories Shortcuts Icons Bundle.
All sales are final. Read our terms of use here.
The sets, which have been downloaded by thousands of iPhone and iPad users, were the first to keep the original background colors from the Shortcuts app.
The Classic set was designed to make your Home screen shortcuts look consistent with Apple's design aesthetic. You can either combine transparent glyphs with Shortcuts' default colors or choose the stunning black monochrome version.
The Color set features multi-color glyphs painstakingly colored with a consistent palette, on white or black backgrounds.
In the Bundle edition, you'll find 400 glyphs in four different color combinations:
Classic with customizable background
Classic with black background
Color with white background
Color with black background
Here are the previews:
With MacStories Shortcuts Icons, you'll have more options than what is provided by default in the Shortcuts app for Home screen icons. There are no workarounds, no hacks: MacStories Shortcuts Icons can be installed using a native feature of Shortcuts supported in iOS and iPadOS 14. Your shortcuts will keep the colors you assigned them, but they'll use custom glyphs.
Here is an example of MacStories Shortcuts Icons in action: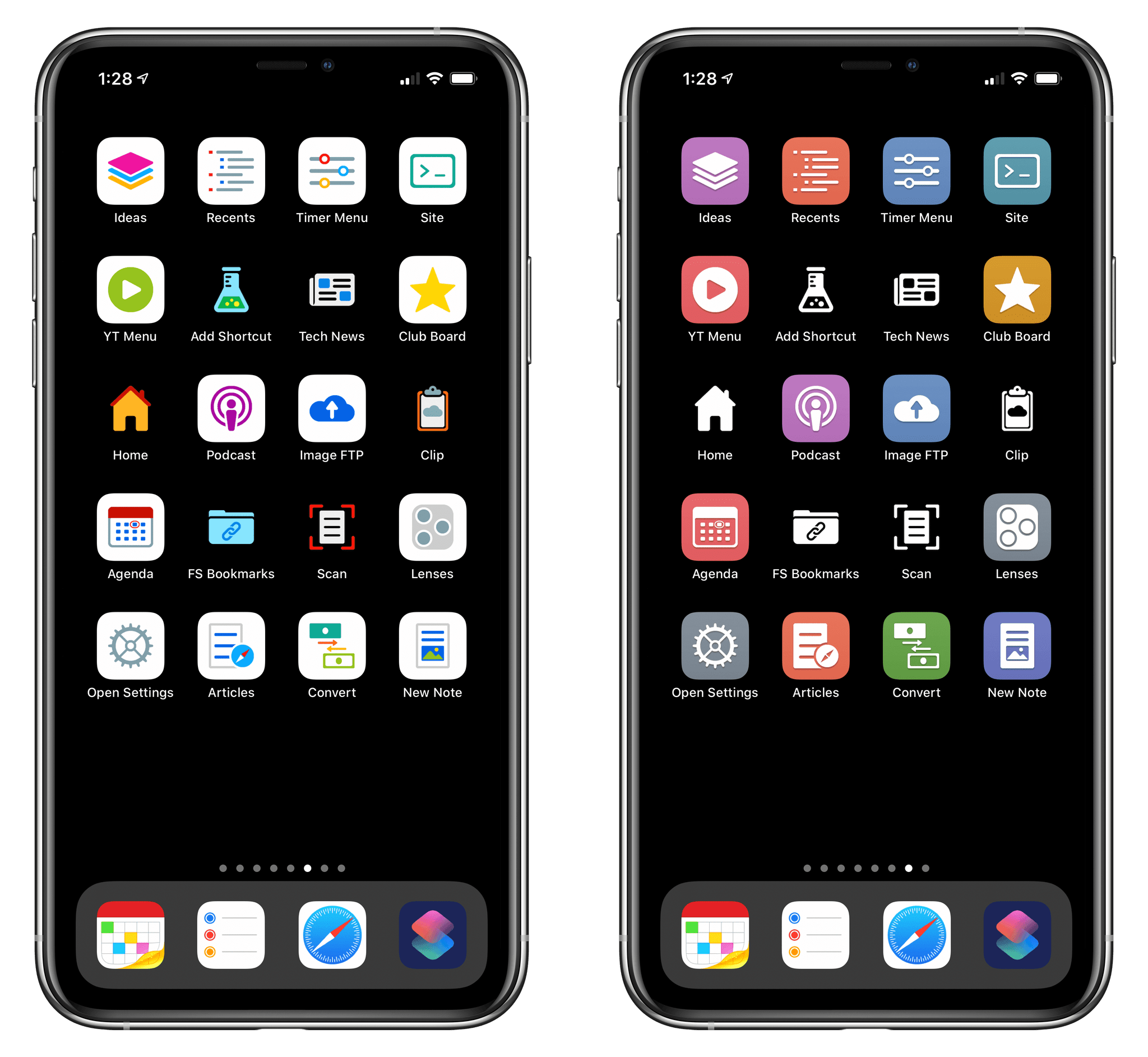 MacStories Shortcuts Icons were designed to cater to the needs of the Shortcuts community. Every shortcut from the MacStories Shortcuts Archive is represented in MacStories Shortcuts Icons. We also tried to provide as many options as possible for popular shortcuts shared on Reddit and other websites by the Shortcuts community.
From documents and the clipboard to media and task management, MacStories Shortcuts Icons cover dozens of categories of potential shortcuts. In the download file, each icon is labeled by name, and you'll also find a full preview to get an overview of all the icons.
Don't just take our word for it: we asked Shortcuts experts Rosemary Orchard and Matthew Cassinelli to share their thoughts on MacStories Shortcuts Icons, and here's what they said:
The MacStories team has always been the top champion making automation approachable on iOS and this set of icons for shortcuts on the Home Screen will soon be another friendly addition for many now adopting Shortcuts in iOS 13. Giving Siri Shortcuts users a handy set of custom designs for their shortcuts that will live right next to one's favorite apps is another fantastic step in Federico and the team accomplishing their mission. – Matthew Cassinelli

Shortcuts has never had enough icons to suit me, and now that launching them from the Home screen is truly viable, I need more icons to let me differentiate between them visually – and that's what MacStories Shortcuts Icons offer. An icon for every occasion as well as prompts for more Shortcuts to create. – Rosemary Orchard
MacStories Shortcuts Icons are not just a random icon set: each icon was specifically designed with a potential use case for Shortcuts in mind. MacStories Shortcuts Icons are the result of a collaboration between MacStories Pixel, our design brand run by our longtime designer Silvia Gatta, and Federico Viticci.
You can buy MacStories Shortcuts Icons here or by tapping the 'Buy' button below. Remember to subscribe to the mailing list to get free product updates in the future.
All sales are final. Read our terms of use here.
For more information and details about MacStories Shortcuts Icons, you can read our FAQ section here.