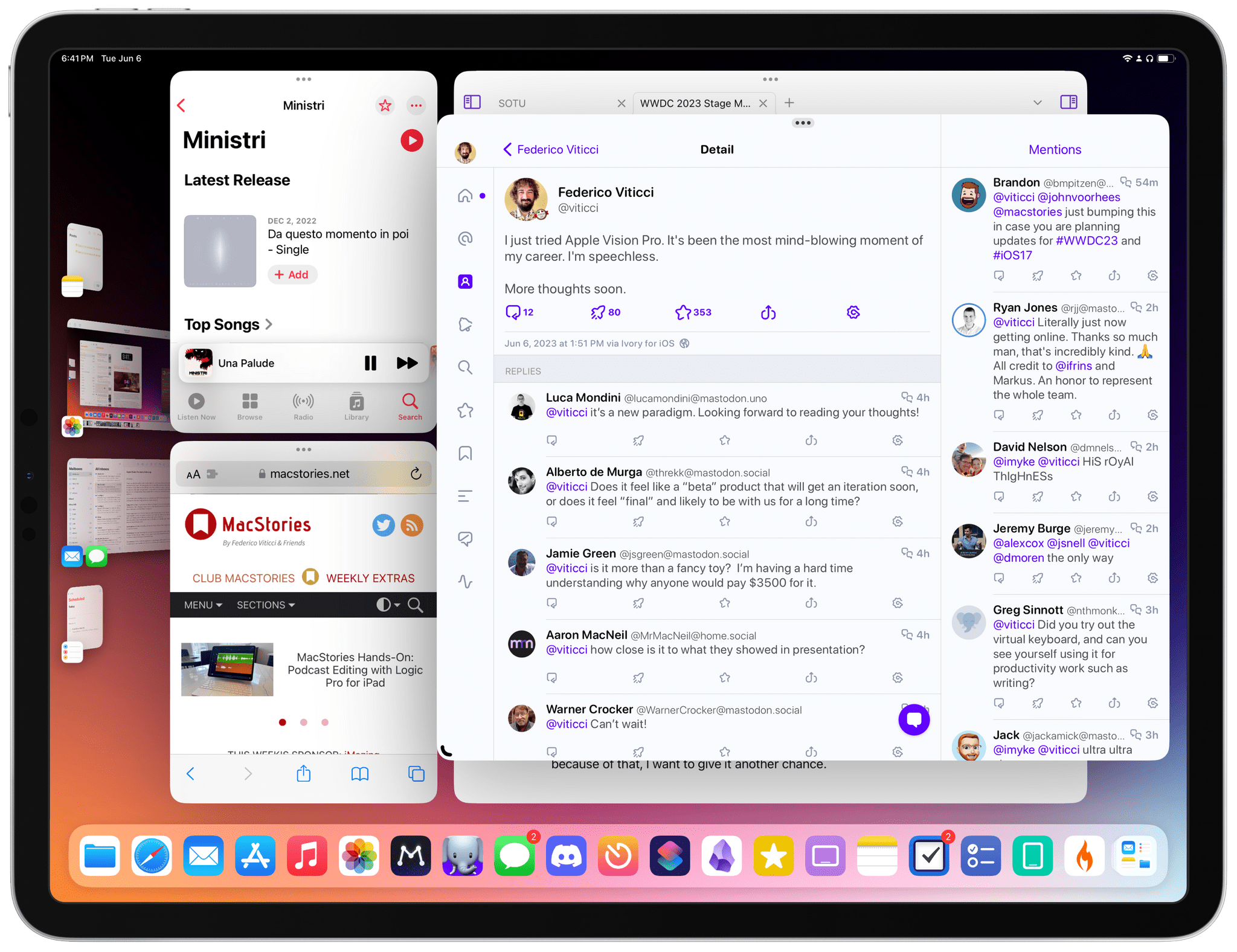 I'm in Cupertino for WWDC this week, and after yesterday's whirlwind of announcements and surprises, I had some time to sit down with my 12.9" iPad Pro, install iPadOS 17 beta 1 on it, and try the improved version of Stage Manager. As you know, I have a…complicated history with the iPad's latest multitasking system. Before coming here, I was worried Stage Manager would be left untouched without any updates for at least another year.
I'll cut to the chase: Apple listened to feedback about Stage Manager and – at least so far – implemented the key improvements I wanted to see. I've been using Stage Manager on my iPad Pro since yesterday afternoon, and I even tested it on a portable external display that I brought with me for this trip. If this early, limited experience is of any indication, I think I'm going to be happy with Apple's revised version of Stage Manager for iPad by the end of the summer. But then again, caution is necessary given how last year's beta evolved over time.
The one aspect of last year's Stage Manager that Apple undid in iPadOS 17 is also the most important in my opinion: you now have much greater freedom in terms of window sizing and placement.
Based on what I've seen so far, Stage Manager for iPad is still based on different size classes for apps, which means that when you resize a window, you're effectively choosing from a list of invisible presets that control how small or big a window can be and how its contents are laid out. However, compared to iPadOS 16, it feels to me as if the process of resizing a window is smoother and more lenient than before. You still see a window "blink" as it gets resized, but I'm under the impression that there are more "intermediate steps" when it comes to the sizes you can choose from. I understand why resizing an iPad app cannot be as pixel-precise as resizing a Mac one, but as long as Apple figures out a system to make layouts more flexible given the limitations of iPadOS, I'm good with that.
There's even better news on the window placement front: unlike the original Stage Manager, you can now almost freely place windows anywhere and make them overlap as much as you want if necessary. The "almost" part is necessary since I believe there is still a rail-based system underneath Stage Manager, but in iPadOS 17, it's like those rails have gotten way denser than iPadOS 16, giving you a lot more options for placing a window somewhere and making it stay there. Which, as I argued last year, should be the whole point of a windowing-based multitasking system.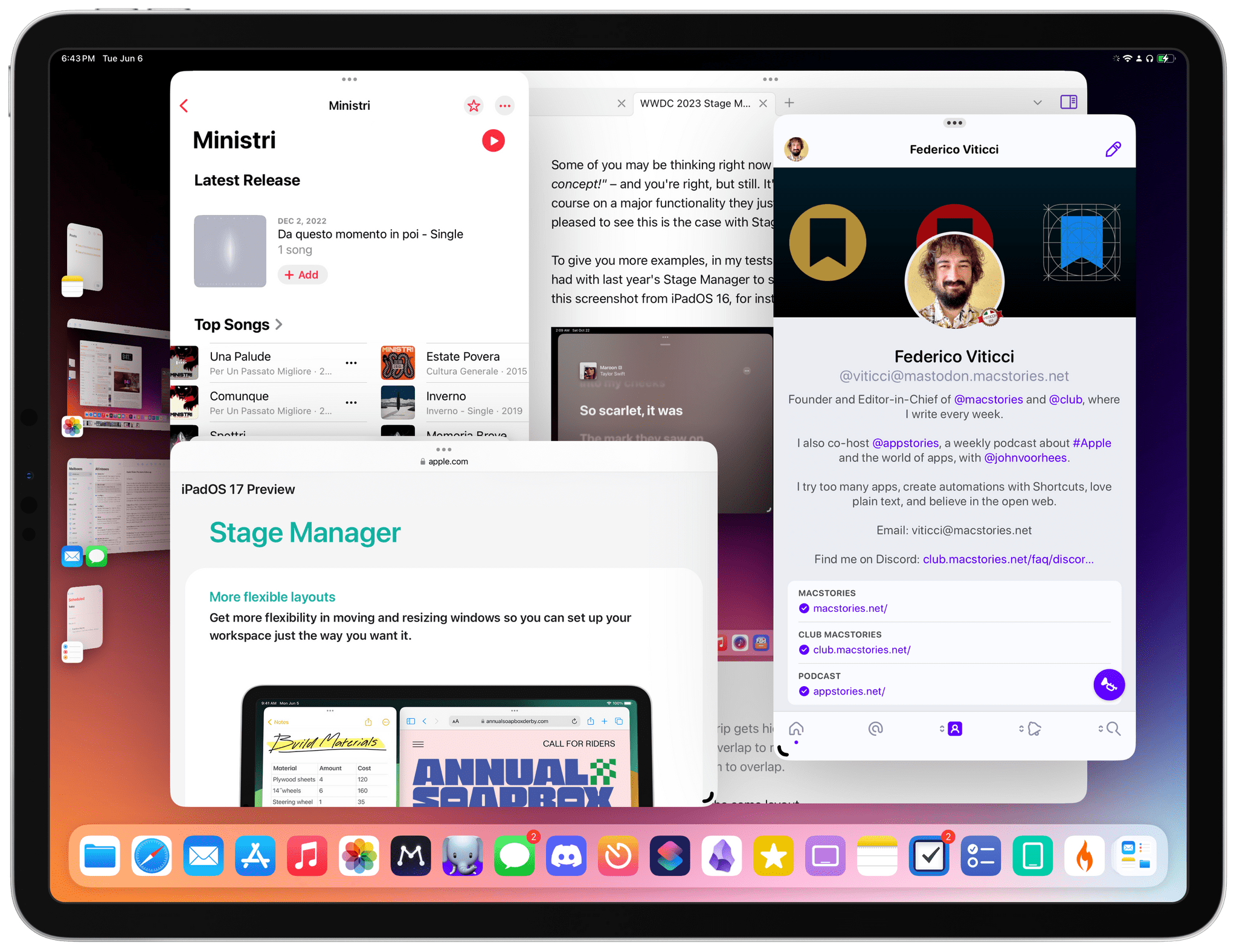 Stage Manager in iPadOS 17 is considerably less aggressive than its iPadOS 16 counterpart when it comes to deciding where windows you place onscreen should be. Or in other words: in iPadOS 17, Stage Manager sort of doesn't decide on its own anymore. When you make a window bigger and drag it to the left side, you can cover the strip and hide it; if you change your mind, drag the window back to the right, place it anywhere you want, and you can show the strip again. Want to make a window small and tuck it in a corner of the screen? You can do that now and Stage Manager will not "intelligently" attach it next to another window. Want to use a workspace with a mix of large and small windows, precisely positioned in specific areas of the screen? iPadOS 17's Stage Manager lets you do that.
Some of you may be thinking right now "Freely movable windows, what a concept!" – and you're right, but still. It's rare to see Apple completely reverse course on a major functionality they just introduced the previous year. I'm pleased to see this is the case with Stage Manager in iPadOS 17.
To give you more examples, in my tests I tried replicating some of the issues I had with last year's Stage Manager to see what they'd be like in iPadOS 17. Take this screenshot from iPadOS 16, for instance: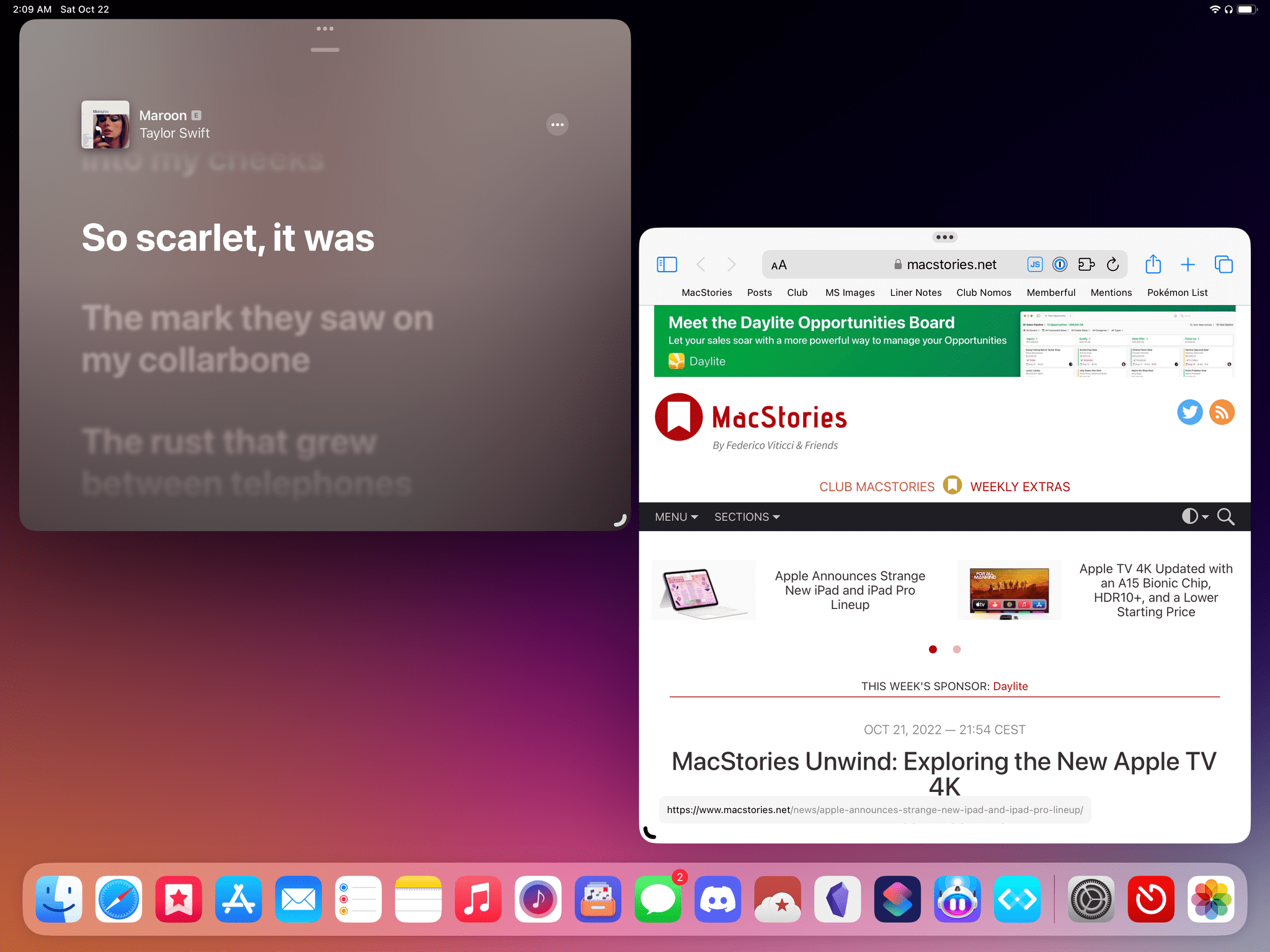 Here's what I wrote:
In this configuration, the strip gets hidden, and there is no way for me to make these two windows overlap to regain more space onscreen. Stage Manager will not allow them to overlap.
In iPadOS 17, I can replicate the same layout…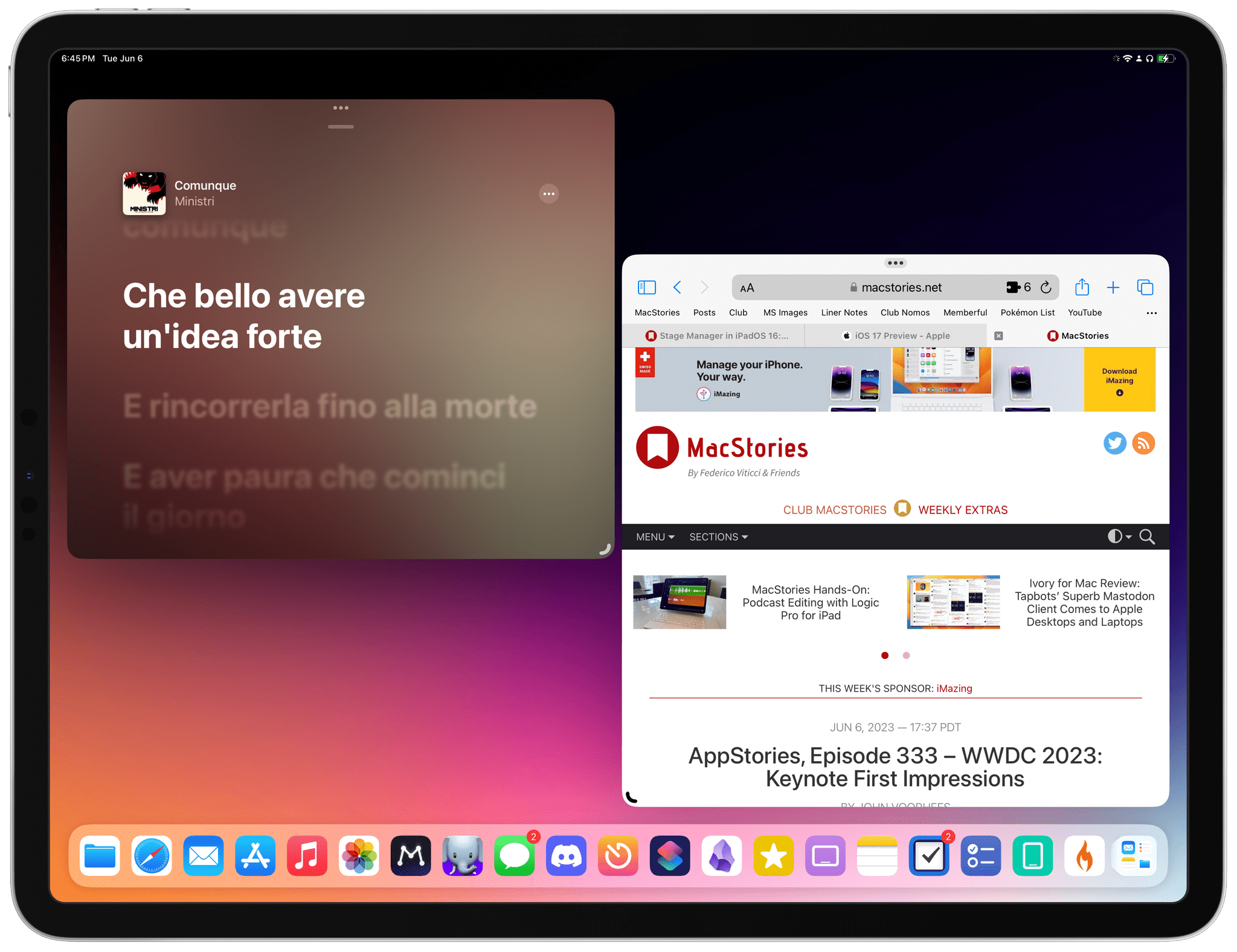 …or I can just grab the Music window, drag it just a little to the right, make it overlap with Safari, and the strip is shown again: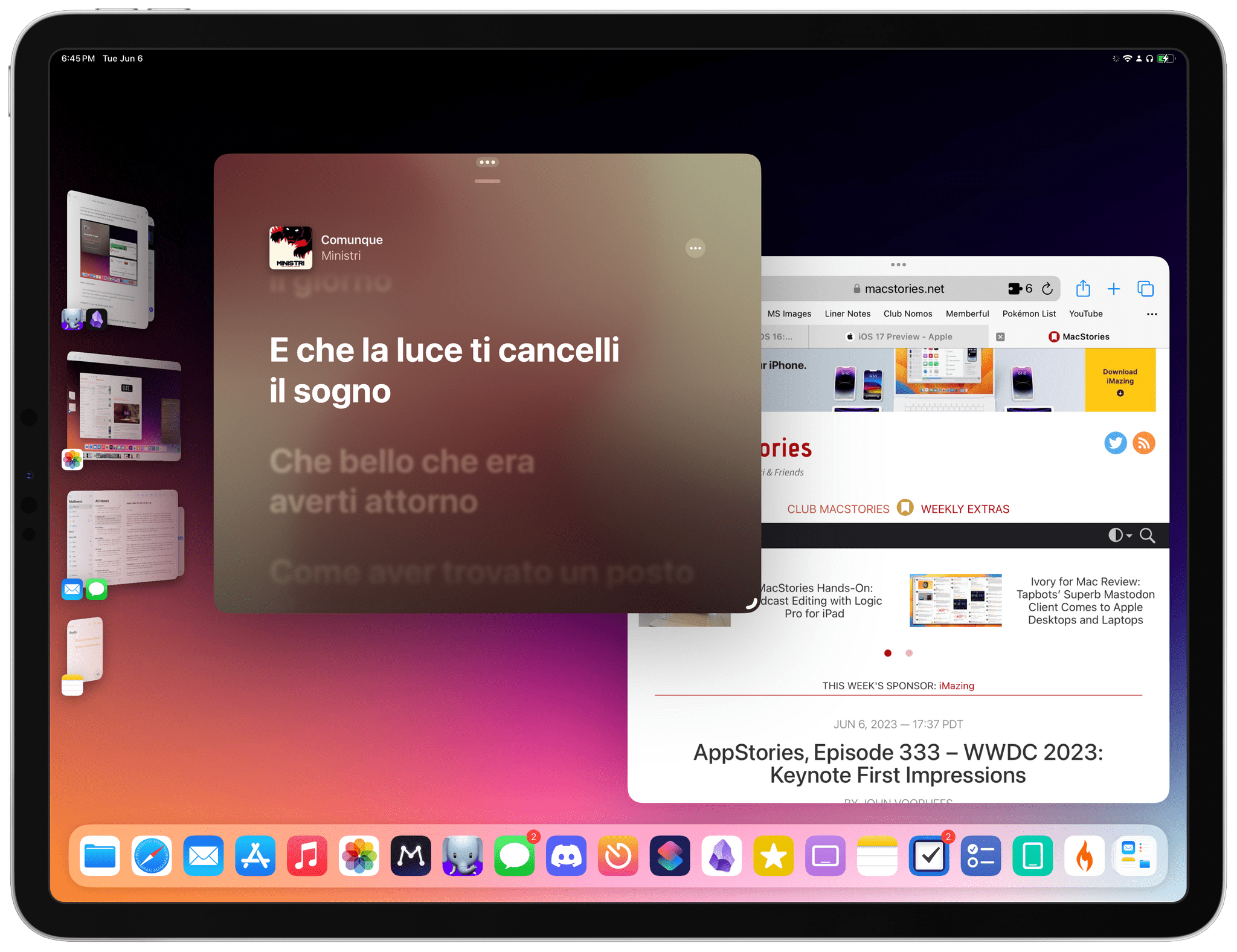 The list of examples goes on. Last year, I complained about being unable to drag a window to the top left corner of the screen without accidentally activating the strip. This year, I can make a window as small as I want it, drag it to the top left corner, and it just stays there without accidentally triggering anything: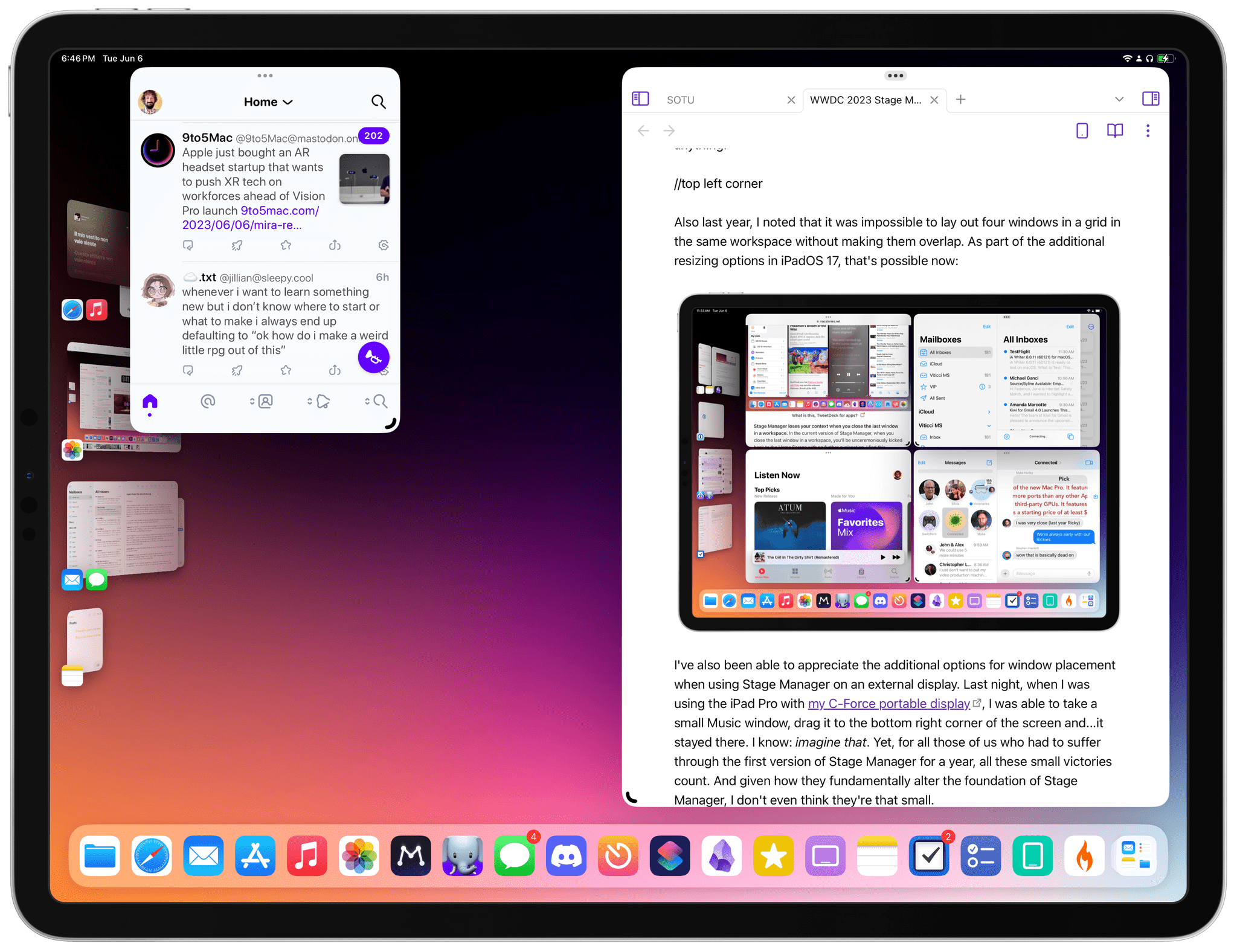 Also last year, I noted that it was impossible to lay out four windows in a grid in the same workspace without making them overlap. As part of the additional resizing options in iPadOS 17, that's possible now: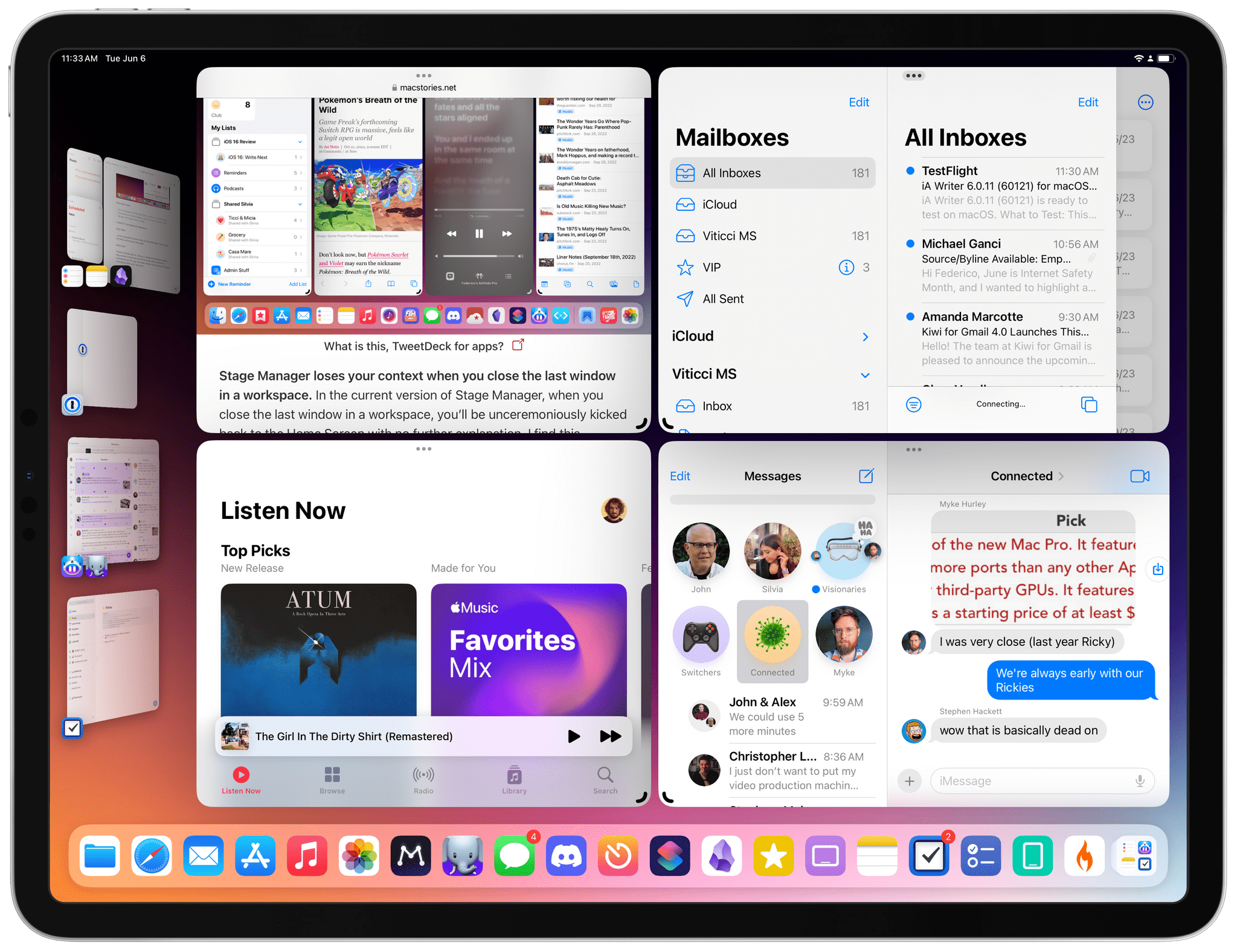 I've also been able to appreciate the additional options for window placement when using Stage Manager on an external display. Last night, when I was using the iPad Pro with my C-Force portable display, I was able to take a small Music window, drag it to the bottom right corner of the screen and…it stayed there. I know: imagine that. Yet, for all those of us who had to suffer through the first version of Stage Manager for a year, all these small victories count. And given how they fundamentally alter the foundation of Stage Manager, I don't even think they're that small.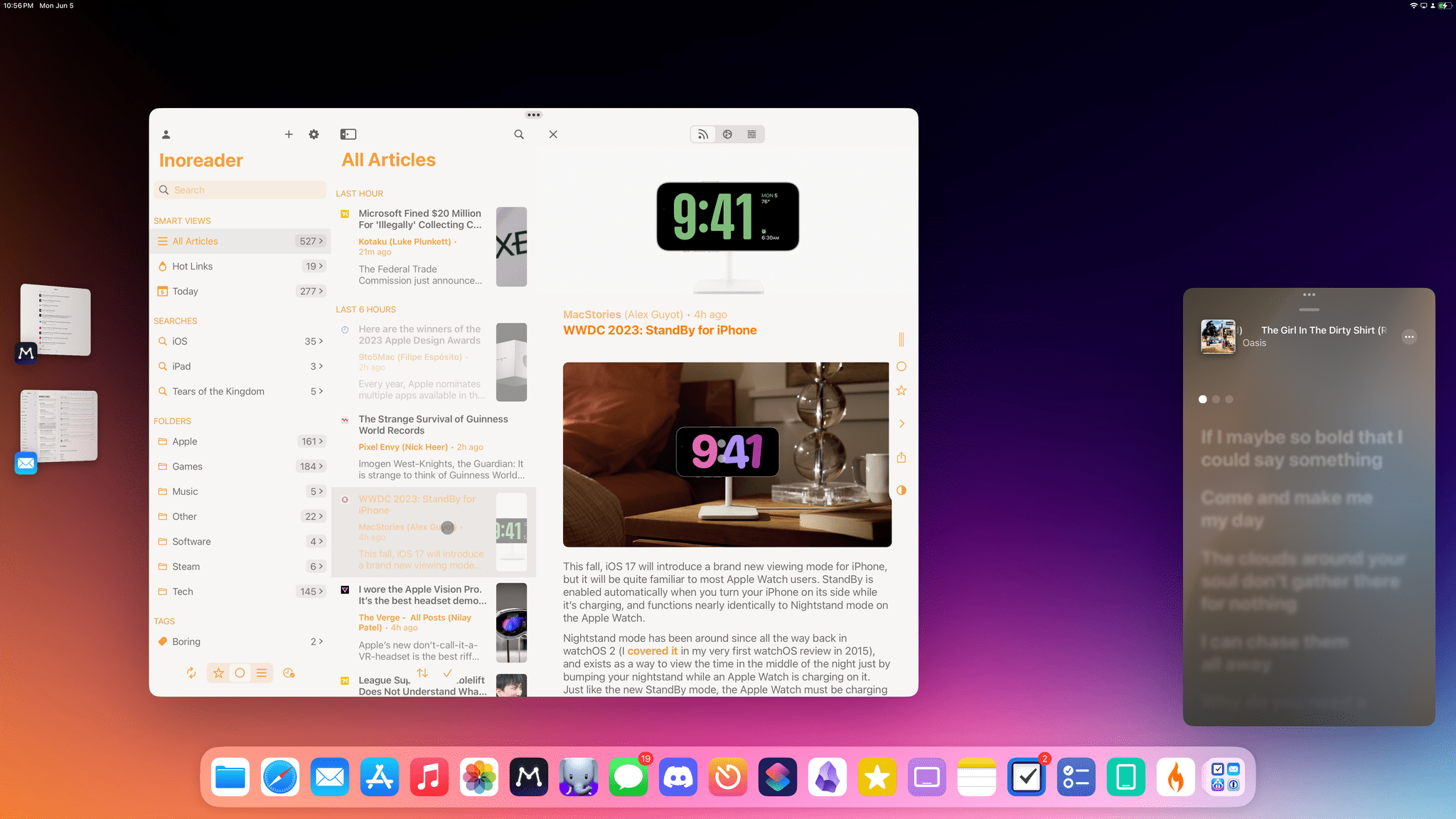 Lastly, I want to mention keyboard shortcuts. In iPadOS 17, I'm happy to see that you can Shift-click app icons in the dock, App Library, and the strip to instantly add a window to the current workspace. Shift-clicking has been available in Stage Manager for macOS since last year, and I always thought that its absence on iPadOS was odd; now, not only is Shift-clicking supported on the iPad, but it's also consistently available throughout all the places from where you may want to open an app.
The addition of Shift-clicking fixes one of my biggest gripes with Stage Manager on the iPad: now, drag and drop is no longer the only way to bring a window into an existing workspace. This keyboard shortcut considerably cuts down the time spent interacting with Stage Manager, which is a good thing when all you're trying to do is getting work done on your iPad.
---
It's too early in the iPadOS 17 cycle to be able to confidently say whether Apple's second take on Stage Manager addresses all the issues I reported last year. But today – two days into using the updated Stage Manager on my iPad Pro – I can see that Apple is on the right path towards improving the worst aspects of last year's version and listening to the most common complaints from power users.
There are still bugs with Stage Manager and, look, this is not surprising given this is the first beta of iPadOS 17. However, it feels like part of the philosophy behind Stage Manager has changed. It's almost like Apple is willing to make concessions to power users without giving up on the underlying vision for a system that can neatly organize different workspaces and modernize the concept of overlapping windows.
I wrote last year that Stage Manager could be salvaged, but only if Apple wanted to truly understand the problem behind it. It seems like they did, and because of that, I want to give it another chance.
---
You can follow all of our WWDC coverage through our WWDC 2023 hub or subscribe to the dedicated WWDC 2023 RSS feed.