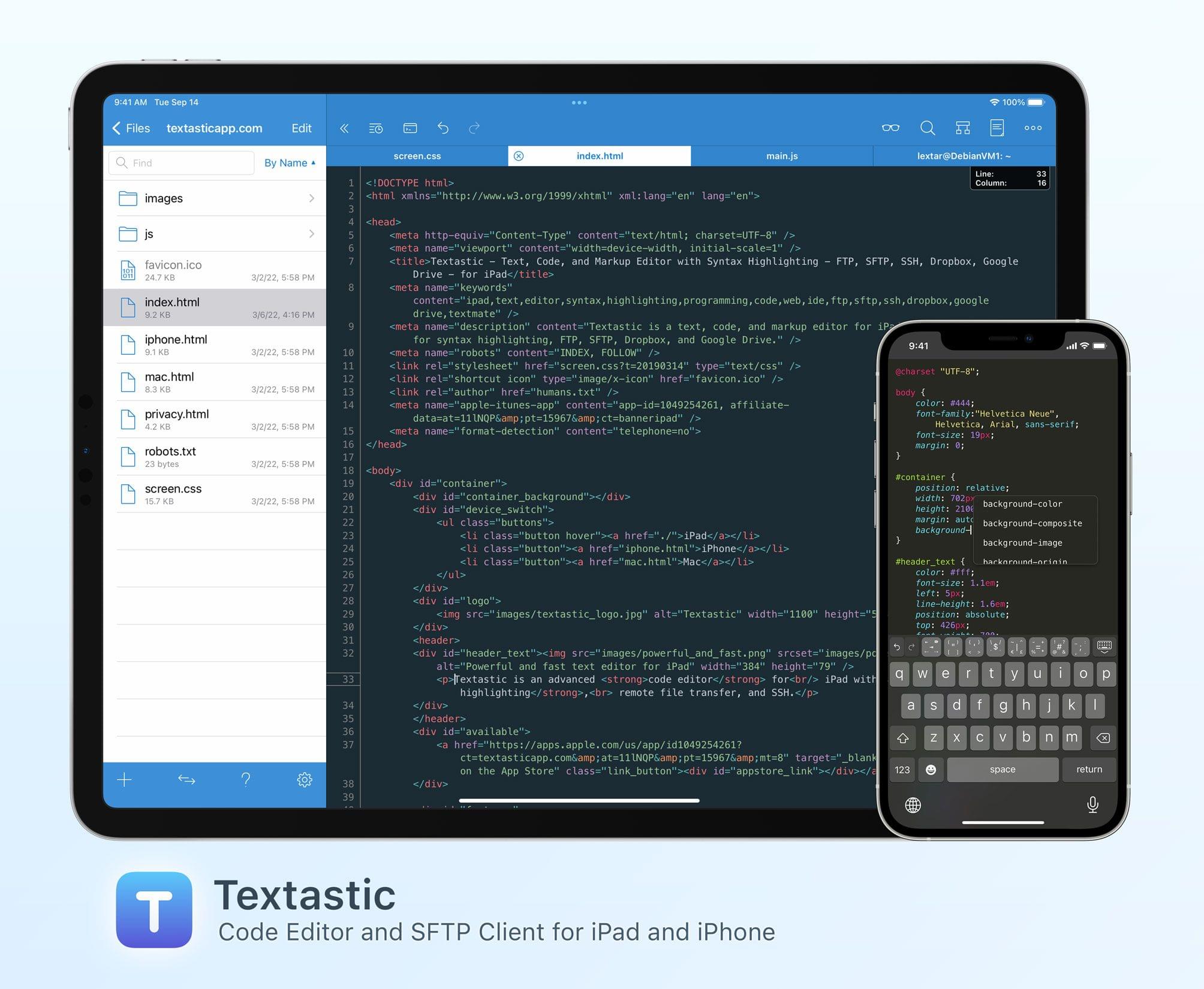 Textastic is the most comprehensive and versatile text and code editor available for iPad and iPhone.
This starts with syntax highlighting support for more than 80 programming and markup languages: Textastic handles highlighting for C, C++, Swift, Objective-C, Rust, Go, Java, HTML, JavaScript, CSS, PHP, Python, Ruby, Perl, Lua, Markdown, LaTeX, YAML, JSON, and many more. If your favorite language is not yet included in the extensive list, you can add your own syntax definitions and themes compatible with Sublime Text and TextMate.
With clients for SFTP, FTP, WebDAV, Dropbox, and Google Drive, as well as the integrated SSH terminal, however, Textastic goes well beyond the functionality of a traditional text editor. Since Textastic supports tabs, you can have multiple files and SSH terminals open at the same time, and, on iPad, in multiple windows side by side.
Whether you want to create web pages and check them with the built-in web preview, edit configuration files on your server, or perform code reviews, Textastic is the perfect tool for your mobile workflow.
Customizable keyboard shortcuts, wide-ranging configuration options, support for Git repositories using the Git client Working Copy, and robust find and replace, turn this app into the most powerful code editor for iPad you'll find.
The long list of features also includes support for iCloud Drive, the Files app, drag and drop, trackpad and mouse, printing, Split View, multiwindowing, and a whole lot more.
The app is, of course, regularly updated and maintained as well. With the recently released version 9.8, for example, Textastic got the ability to search the contents of files in a folder and its subfolders for text or regular expressions, allowing you to stay on top of large projects and quickly find what you're looking for.
And if you ever get stuck, the in-depth manual, which describes every part of the app in detail and is illustrated with nearly 150 screenshots, will help you out.
To learn more about Textastic and what it can do for your iPad and iPhone code editing needs, visit textasticapp.com, and download a copy today.
Our thanks to Textastic for sponsoring MacStories this week.